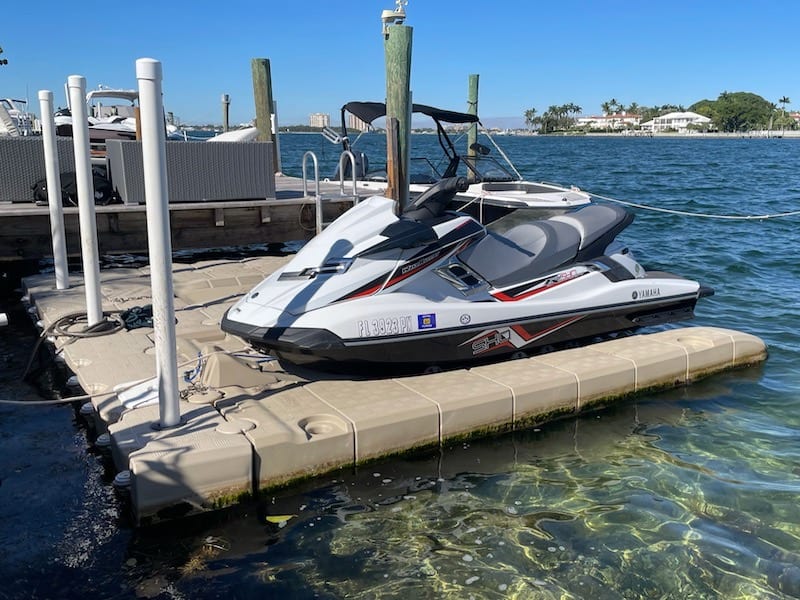 Candock JetROLL: 1-piece foam-filled Jet Ski Floating Dock with wheels.
With Candock floating dock, you gain the convenience of berthing with the benefits of dry-docking. With our PWC floating dock, you will actually enjoy your Jet Ski!
Forget the hassle of trailer launching, parking and recovery! Just push your jet ski down and you're ready to go!
Candock JetROLL is THE BEST solution for your jet ski!
Candock JetROLL is a jet ski floating dock. It is the best solution because it is:
Unsinkable: contrary to competitors, it is foam filled.
Super Easy to roll out and roll up. Kids can push it out!
Super easy to install: 1-piece
Made of MDPE (Medium-density polyethylene) which is the highest quality you can get!
Can connect in the front to another CanDOCK set up
Can stand-alone or connect to a structure

 How easy is it to get up and down Candock?
Just watch this 10-second video and you will understand why Candock is the preferred solution for Jet ski rental businesses.
Candock PWC Floating Dock configurations

Easy to use
The Candock system is the easiest and fastest PWC floating dock to use. Just drive it up and push it down, and off you go!

Maintenance Free
With the Candock system, the concept of "maintenance-free" means ZERO maintenance – no more, no less. No more lost time, no more expense, and no more work to be done on a conventional wooden or metal dock year after year.

Easy to Set up
The Candock JetROLL is super simple: Just 1 piece! No assembly whatsoever, you just have to push it in the water!

Unsinkable JetROLL
The Jetslide is a unique piece designed by Candock on which the hull of the PWC rolls and rests. It is foam filled with expanded polystyrene, making your dock virtually unsinkable.

Manufacturing docks for > 20 years
Candock has been in business for over 20 years. Candock has a large R&D department, a team of engineers, and has been distributed worldwide for decades. Candock owns its manufacturing facilities.

High Quality
The Candock system is made of High density polyethylene resin (not recycled plastic). This makes Candock very resistant to impact, climate change, water, sun, and many chemical products.

Anchoring options
Candock offers the most anchoring options. Whatever your situation, we can secure your dock to almost anything: a floating dock, a wooden dock, a sea bed, a sea wall, even at the bottom of the ocean!

UV Inhibited
We use premium UV inhibitors. That prevent the plastic from changing color, cracking and degrading prematurely.

Fast Delivery
We stock locally! We can deliver and install sometimes in 24 hours! We'll arrive faster than your jet ski!

Made in Canada
Candocks are made in Canada. For the last few years, the very strong US Dollar makes Canadian products much more affordable because of the exchange rate. So you get high quality for less money.
OTHER CANDOCK FLOATING DOCK PRODUCTS YOU MIGHT BE INTERESTED IN