Most of the Candock floating docks are a custom assembly of Cubes and Jetslide. Here are some detailed explanations on why Candock is the best floating dock on the market.
The Candock Cube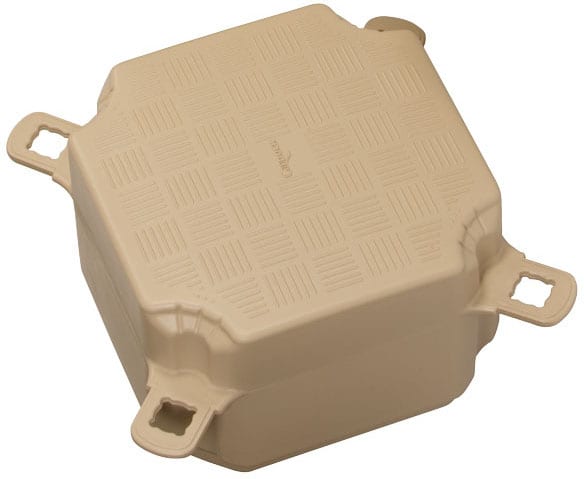 The cube is the base element of our docks. Cubes are locked together thanks to a Screwing Pin locking system. The Pins hold the individual blocks together so tightly it creates a singularly solid dock. Connecting the blocks is intuitively simple, lightweight and easy to handle.
Characteristics of the Candock Cube
Material/Composition: High-density polyethylene resin (not weaker recycled plastic)
Surface: Anti-skid
Dimensions of 1 cube: L 19" (48cm) x W 19" (48cm) x H 14" (35cm)
Weight: 5.5 kg (12.1 lbs.)
Floating Capacity / Cube: 150 lbs (68 kg) per cube Or  60 lbs. per sq. ft. (296 kg per sq. m.)
The Jetslide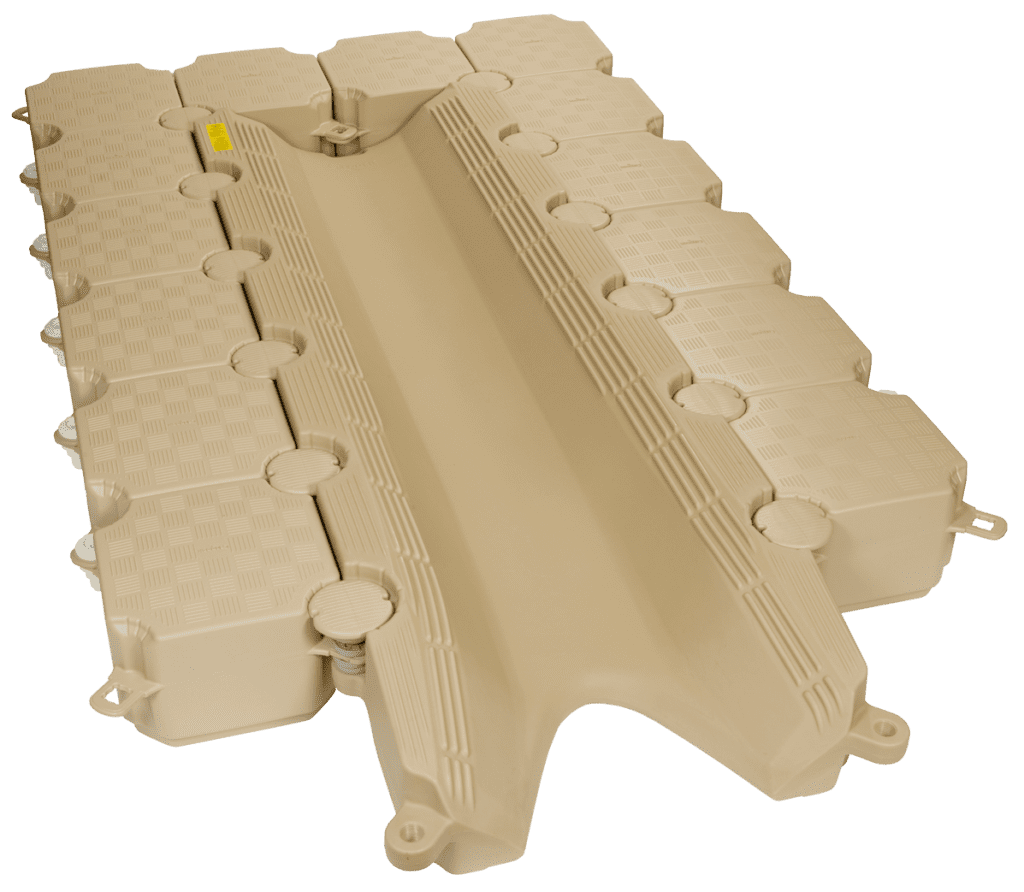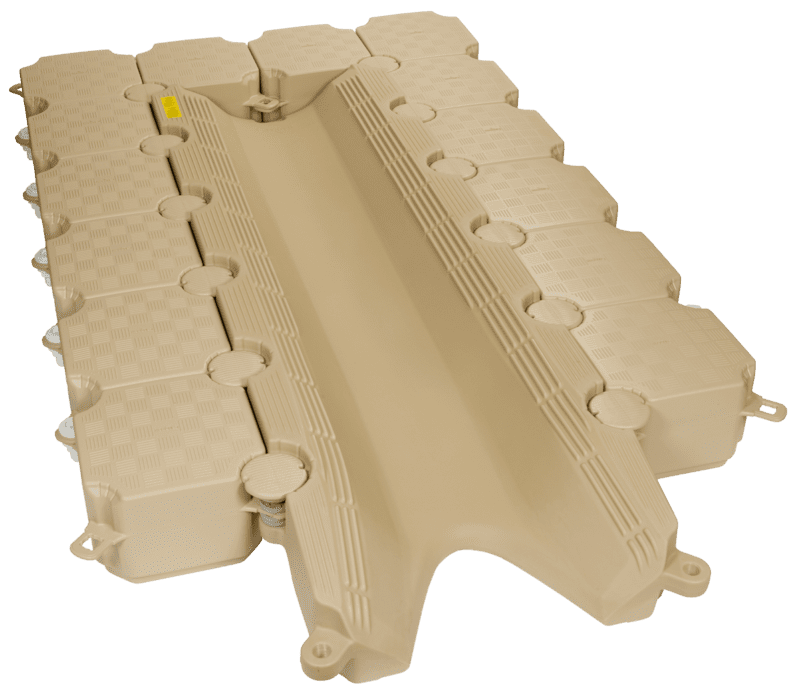 The Jetslide is Candock's patented foam filled piece on which your PWC or boat's hull will be parked. The Jetslide is the most highly effective system on the market and is a Candock proprietary product. Easy to assemble, JetSlide is not only compatible with most watercraft up to 23' currently offered on the market, its clean and aesthetically pleasing lines ensure it looks great too!
Boarding and parking your watercraft couldn't be easier, simply drive on and off this remarkably stable platform, rinse and flush, and you know your toy will be in precisely the same condition next time you want to go for a blast. No more messing with mooring lines, concerns about damage during our frequent storms, or problems boarding and landing… it's a simple and plug and play!
Specifically designed to evenly distribute the watercraft's weight, the Jetslide's total support ensures no excessive pressure is placed on a specific point of the hull. As a single unit, with no moving parts that require attention or maintenance, Jetslide's next-generation plastic construct is of the highest quality… resulting in more time on the water and none–that's none! –on maintenance.
Resistant to impact, harmful UV rays, temperature variances and chemical products, your Jetslide will always look great on the outside. Inside meanwhile, the foam-filled core ensures it will always remain afloat and your watercraft will always be ready for use when you are.
Characteristics of the Jetslide
Material/Composition: High-density polyethylene resin filled with foam
Dimensions: L 114" (288 cm) x W 38" (96 cm) x H 15" (38 cm)
Weight: 150 lbs. (68kg)
Why choose Candock?

Easy to use
The Candock system is the easiest and fastest PWC floating dock to use. Just drive it up and push it down, and off you go!

Maintenance Free
With the Candock system, the concept of "maintenance-free" means ZERO maintenance – no more, no less. No more lost time, no more expense, and no more work to be done on a conventional wooden or metal dock year after year.

Unsinkable Jetslide
The Jetslide is a unique piece designed and patented by Candock on which the hull of the PWC rests. It is foam filled, making your dock virtually unsinkable.

Easy to Assemble
The Candock system is simple: blocks closely and firmly held together by special mounting screws. All pieces are light and easy to handle. It is so easy you can assemble it yourself!

Reconfigurable
Trading your jet ski for a boat? Getting another jet ski? Just add some cubes! With Candock you can assemble them to create whatever shape and size you like. The configuration options are limitless… Just use your imagination!

Save money on maintenance
No more bottom paint, anodes, electrolysis, rust, barnacles, etc. Save tons of money on maintenance and keep your boat's value high. Your Candock basically pays itself.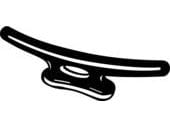 Cool Accessories
Candock offers the most complete range of accessories for your dock to make it fit your all needs: ladders, gangways, cleats, bumpers, kayak racks, diving boards, lights, and more!

Anchoring options
Candock offers the most anchoring options. Whatever your situation, we can secure your dock to virtually anything: a floating dock, a wooden dock, a sea bed, a sea wall, even at the bottom of the ocean!

Up to 20-year warranty
This is how confident we are in our product! We offer a 20-year warranty on the cubes and a 5-year limited warranty on the Jetslides.

Fast Delivery
We stock locally! We can deliver and install sometimes in 24 hours! We'll arrive faster than your jet ski!

UV Inhibited
We use premium UV inhibitors. That prevent the plastic from changing color, cracking and degrading prematurely.

Great Service
Our highly reactive Candock staff is available when you need it: by phone, email, social media, through our extensive dealer network. And if you move with your dock, we will be there too thanks to our extensive Candock dealers network!

High Quality
The Candock system is made of High density polyethylene resin (not recycled plastic). This makes Candock very resistant to impact, climate change, water, sun, and many chemical products.

Manufacturing docks for > 20 years
Candock has been in business for over 20 years. Candock has a large R&D department, a team of engineers, and has been distributed worldwide for decades. Candock owns its manufacturing facilities.

Made in Canada
Candocks are made in Canada. For the last few years, the very strong US Dollar makes Canadian products much more affordable because of the exchange rate. So you get high quality for less money.
Environmentally friendly
The modular structure components do not oxidize or deteriorate. This means that the floating dock will stay in its natural state. It is also recyclable plastic.